Youth suicide prevention
Getting resources into the hands of those at risk
The challenge
Nevada youth are in crisis. More and more adolescents are struggling with mental health and dying by suicide. In 2020, suicide was the second-leading cause of death among Nevadans 8–24 years old, and Mental Health America ranked Nevada worst in the nation for prevalence of mental illness and low access to care.

Recognizing the seriousness of this issue, particularly among low-income Nevadans, SilverSummit Healthplan wanted to act. They partnered with Hope Means Nevada (HMN), a non-profit whose mission is to eliminate teen suicide, and tasked Estipona Group with developing an awareness campaign.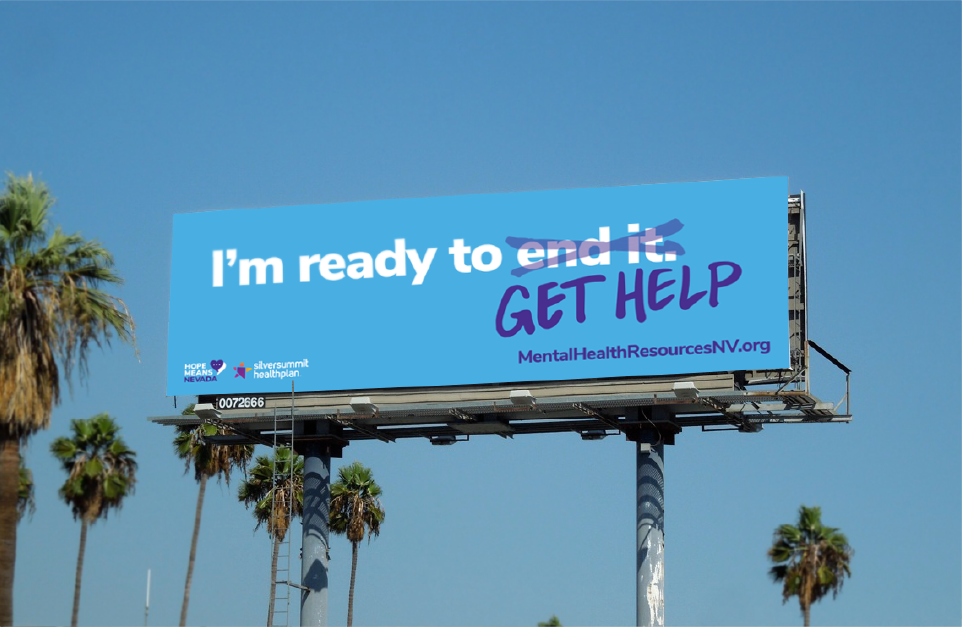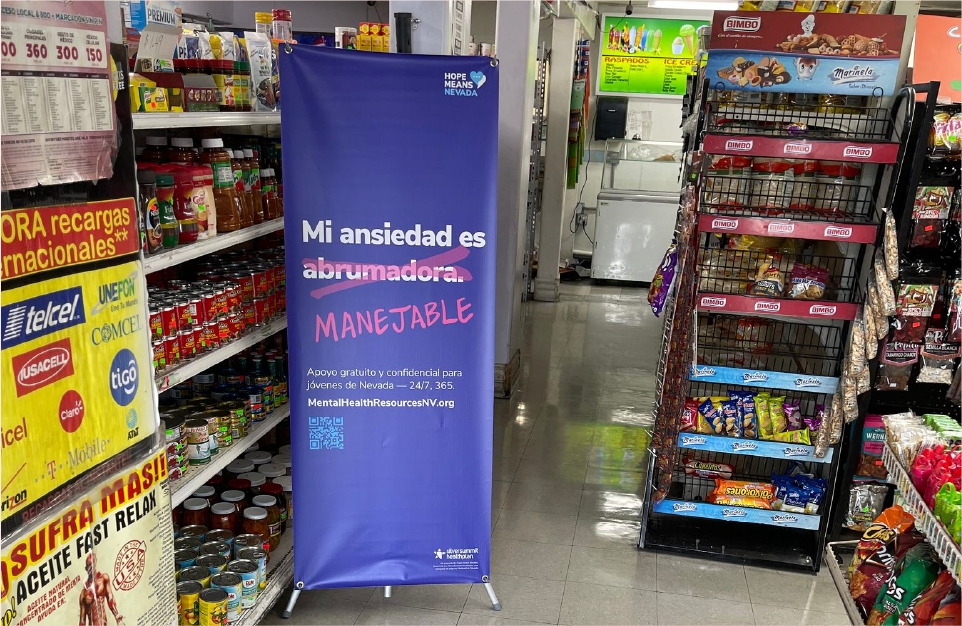 What we did:
Suicide is preventable. We looked at national research about what works to prevent suicide and chose to focus on improving access to mental health resources, as studies show that if an individual can get through a short period of crisis, that person is less likely to attempt suicide. We worked with HMN stakeholders to gather data and insight that would inform messaging, placement and other aspects of the campaign. Our collaborators included HMN staff, family therapist and HMN Board Member Dr. Sheldon Jacobs, members of the HMN teen outreach committee and the State Office of Suicide Prevention.
Target:
Low-income youth and their parents
Strategy:
Remove barriers to mental and behavioral health care access by connecting underserved individuals with free and readily available mental health resources
Craft distinct messaging and outreach to each target audience
We strove to be in many places throughout Nevada during an intensive three-month campaign, driving viewers to a landing page with resources.
Tactics:
Broadcast: Radio, TV
Movie Theater Advertising
Digital: Streaming Audio/Video, Display, Native, CTV, In-Game, etc.
Social Media: Facebook, Instagram, Twitter, YouTube, TikTok, SnapChat, Reddit
Outdoor: Bus, Bus Shelter, Poster Bulletins, Poster Placed, ATM Kiosks
Print
Landing page
Collateral: Toolkit, Flyers, Banners, Rack Cards, Table Tents
Parent Target - "I'm Fine," 60 second radio
Using teen voices from the Hope Means Nevada Teen Committee, we crafted a message that many parents can relate to — having children that don't share much of their interior life. The spot encourages them to push beyond the rote response.
Youth Target - "Too Much," 30 second radio
This spot, targeted at youth using streaming platforms, shares the thoughts of various teens struggling with anxiety, depression and negative self-talk. Like all materials in the campaign, the spot directs them to immediate help.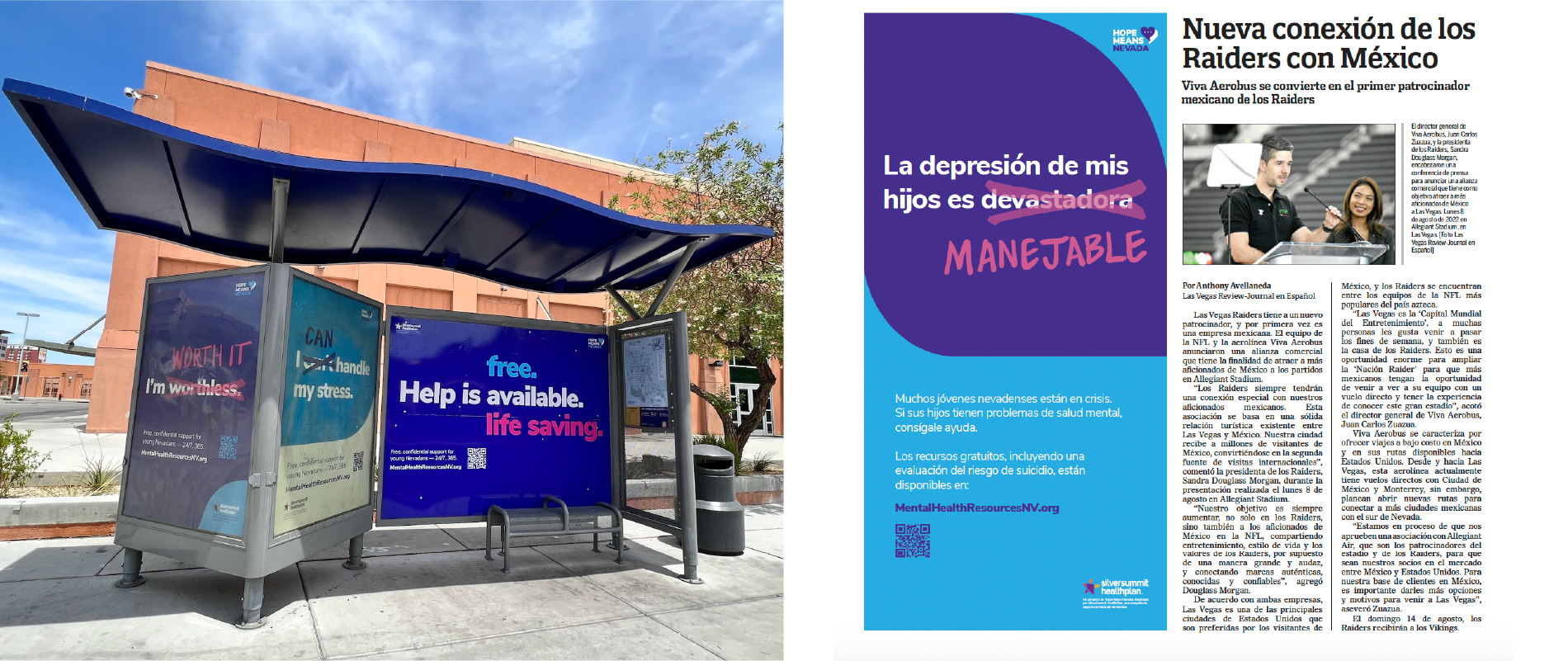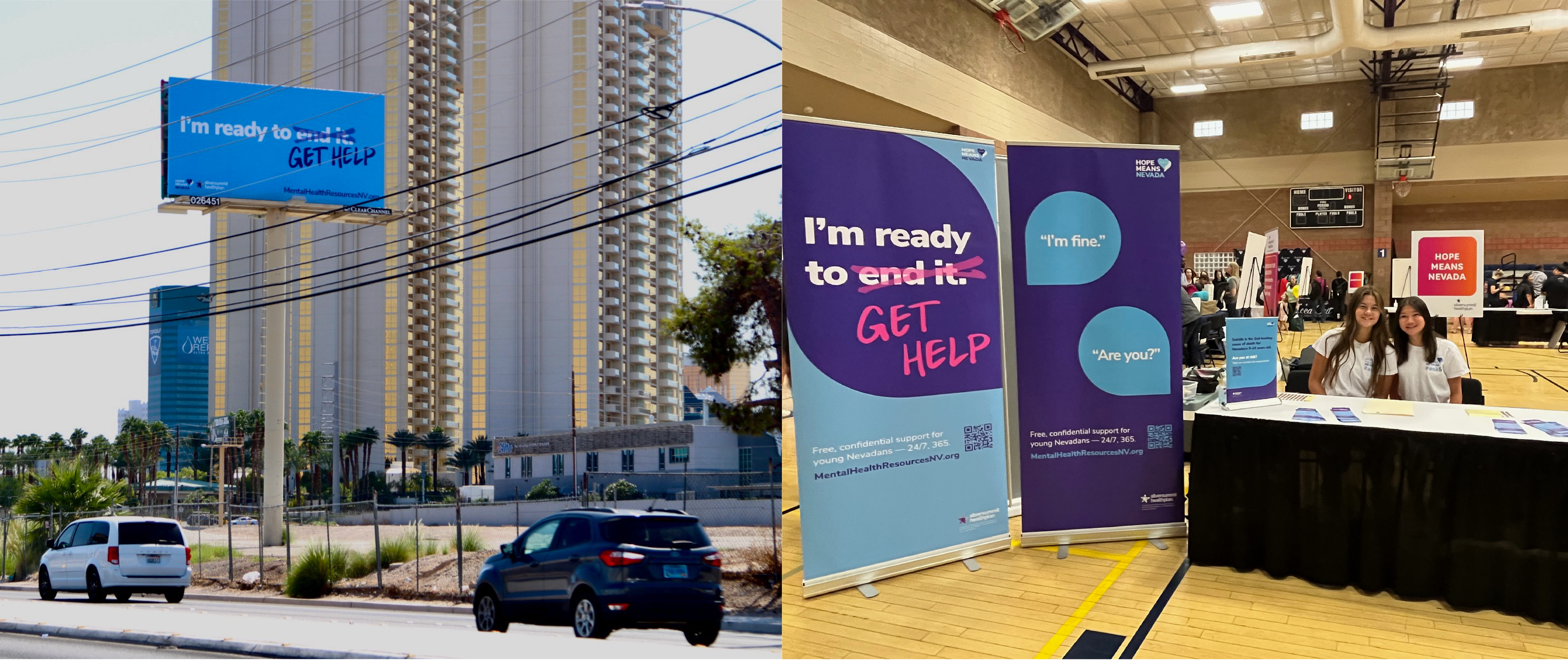 207,462,077 campaign impressions
436,809 website sessions
4,057 actions taken from website
Males and females reached almost equally
1,287 outreaches to National Alliance on Mental Illness phone or text line
103% increase in Google searches around "mental health" in Nevada at campaign's close