Challenge
Race178 hired Estipona Group to help them market a new event and encourage sign ups. The Reno Running Fest would combine the already existing Reno 10 Miler and Journal Jog with a new event — The Reno Mile — into one weekend in September.
Although Race178's Reno-Tahoe Odyssey (RTO) event has great name recognition in the running community, many people do not recognize Race178 as the owner and producer of their other events.
Reno Running Fest is a completely new event that has no name recognition in a pretty crowded running event market.
Approach  
The RTO receives a ton of UGC (user generated content) on Instagram, but it hasn't been capitalized on due to a lack of resources. We saw this as an opportunity for the new Reno Running Fest event. Our plan was to interact heavily with UGC during the RTO weekend to increase public awareness that Race178 was the owner and producer of the event, linking the events and creating name recognition. We also developed a contest to encourage users to tag @race178 in their content.
Once the RTO was over, we started marketing Reno Running Fest to all RTO runners (and their fans) we had engaged with since they would now be familiar with the Race178 name and therefore more receptive to the Reno Running Fest message.
Objectives for race weekend
Increase Race178 followers on Instagram by 25%.

Announce the tagging contest winners on Facebook Live and receive 500 views.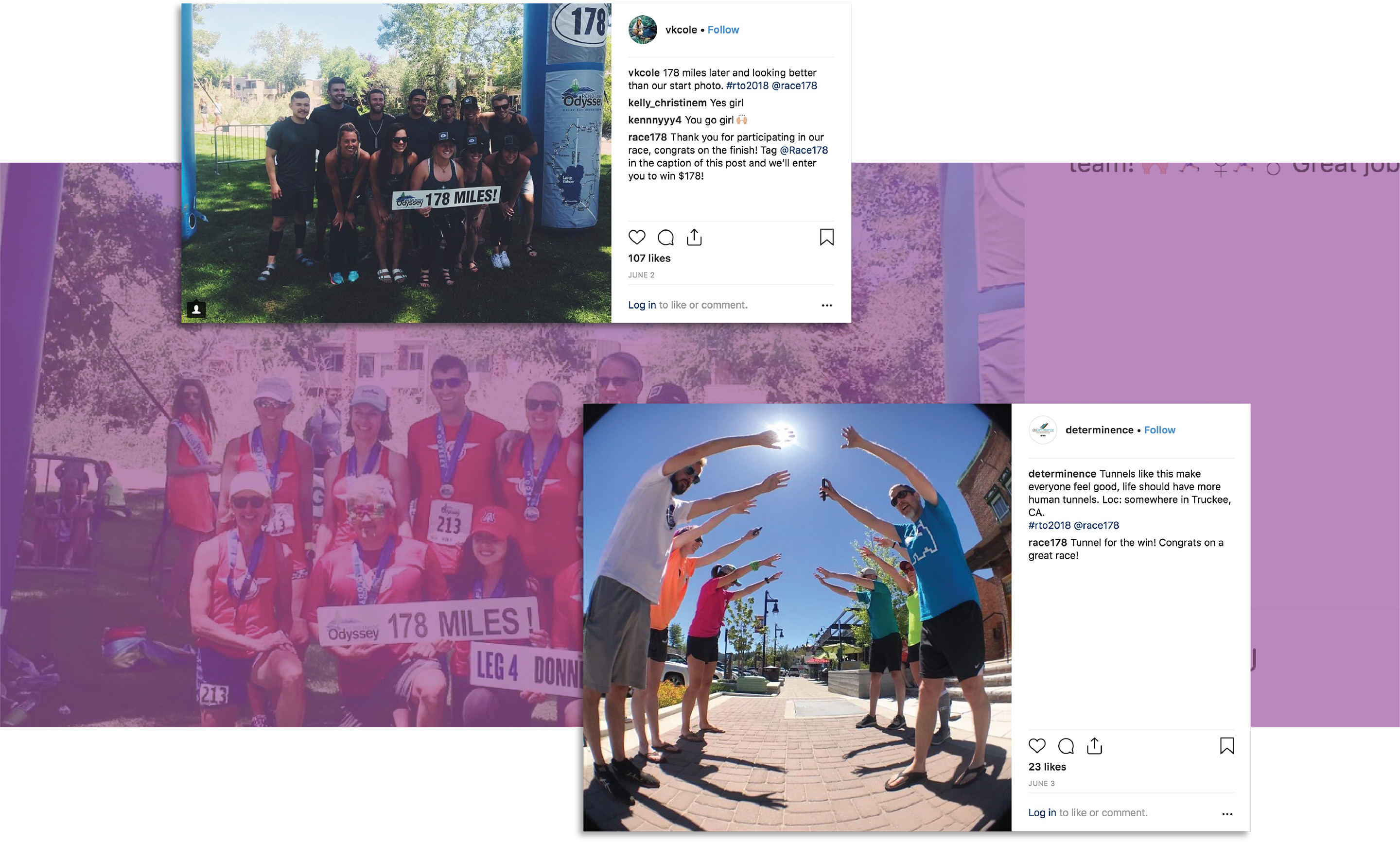 Tactics
Social media monitoring — During the RTO, we monitored the Race178 Facebook and Instagram accounts for tags, mentions, comments, etc. so we could respond and interact with those people and follow them if they fit within our target demographic for the upcoming Reno Running Fest: northern Nevada/California runners.
Social media engagement — Leading up to the RTO event, we promoted the official hashtag. During the weekend, we monitored that hashtag (among others) so we could engage with as much UGC as possible. Monitored hashtags included: #rto2018 (official hashtag), #renotahoeodyssey, #rtodyssey, #rtoreno, #rtonevada, #rto.
Contest — Although interacting with UGC helps make Race178 top-of-mind with posters, it does little to reach their followers. So, we developed a contest to encourage people to tag @race178 in their RTO photo/video or caption, making each tagged post worth one entry into a drawing to win one of two $178 cash prizes.
The Monday following race weekend, we did a Facebook Live video to announce the contest winners and encourages sign ups for Reno Running Fest.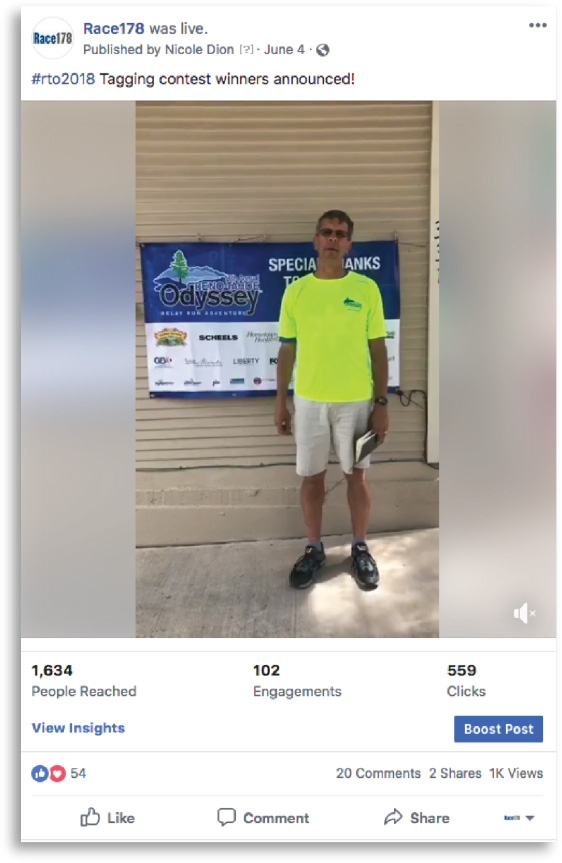 Results
Increased Instagram followers from 312 to 500 in two week period — a 38% increase, 152% of goal

800+ public Instagram posts were generated using #rto2018
Facebook Live contest announcement received 1,084 total views – 216.8% of goal, 65 reactions, 25 comments and 2 shares