A Sex Therapist and a Nun Walk into an Awards Ceremony: How Creative Agencies Tackle Dichotomy
A Sex Therapist and a Nun Walk into an Awards Ceremony: How Creative Agencies Tackle Dichotomy
Many businesses weather extremes, but perhaps none as extremely jarring as those encountered in the creative industry. See how the Estipona Group tackles dichotomies like being together yet separate, virtual but real, and sweary yet all about the good deeds. 
We recently learned that our client, Steven Ing, would be receiving an award for which we happily nominated him: the Mark Twain Award for Community Service from the Public Relations Society of America, Sierra Nevada chapter. We were thrilled. Steven is a gifted communicator tackling a controversial, sometimes scandalous topic. Namely, sex.
After receiving the news, we quickly recalled that this same award was given just a few years back to another of our clients: a nun. Yes, a few years ago, we embarked on an award-winning campaign to promote a virtual choir of Carmelite nuns — sisters, many of them in cloistered convents, connected through technology and singing together in praise of the anniversary of their founder's birth. And the sister at the center, Sister Claire Sokol, served as a beautiful and unifying voice for the event, thus securing her recognition.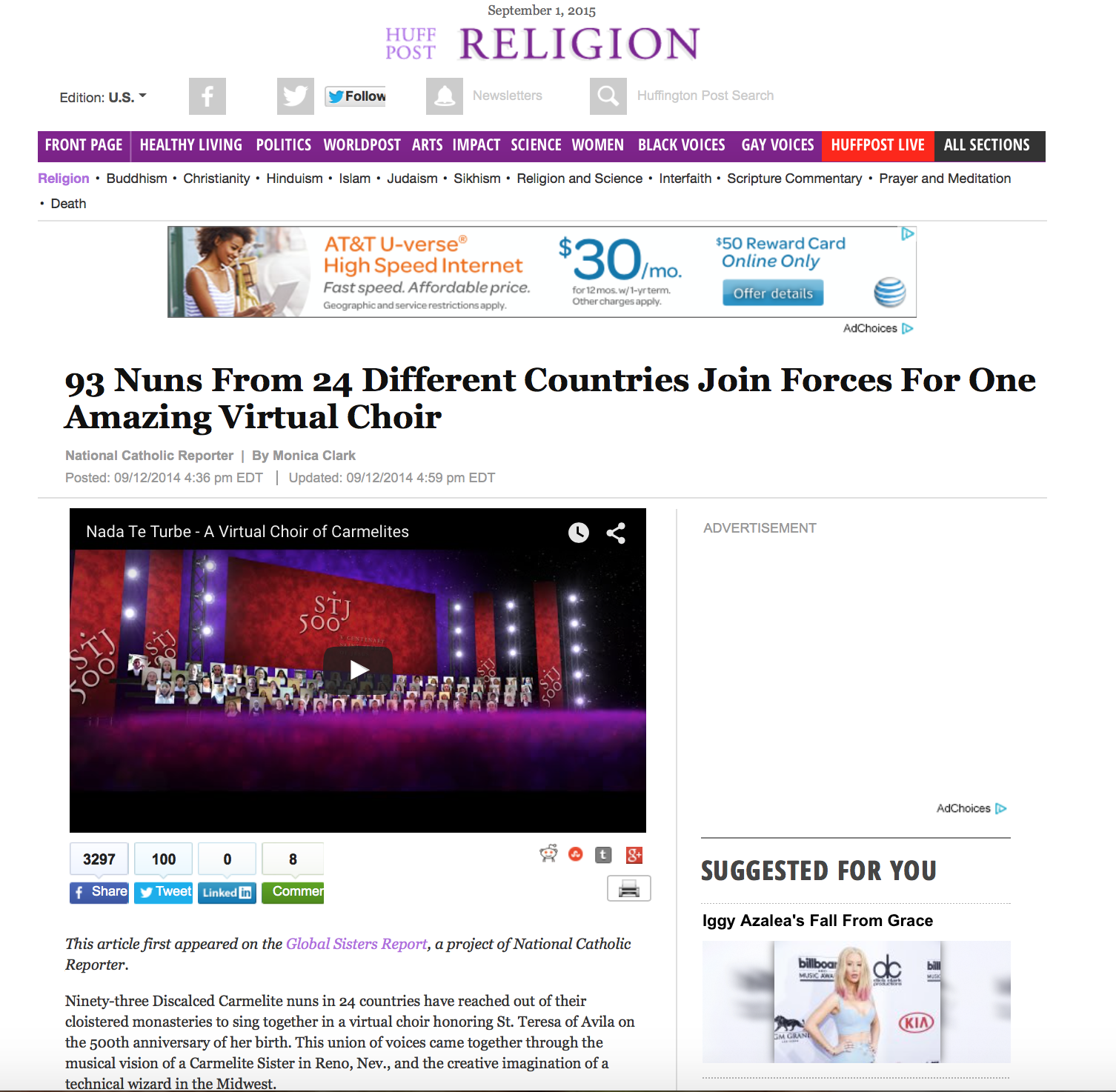 So at the end of the day, we had nominated two clients within a handful of years for the same award: one a sex therapist who primarily works with sex offenders, another a Carmelite nun. 
This example epitomizes the sheer dichotomy of the work we undertake at the Estipona Group. 
Creative Extremes
When we think about our roles, and even our industry at times, we are struck by the extremes we weather. But in some ways, these extremes give us the diversity to be able to tackle any project that comes our way. I mean, when you've been tasked to tweet at the Pope and also pitch Playboy (though not the same content, obvs), then the stuff in the middle seems somewhat less complicated, right? 
Here are some ways that the Estipona Group reflects — and navigates — extreme dichotomies. 
We are virtual (though we are, in point of fact, very real).
Our virtualness (totally proud of making up that word, by the way) is both a well-loved benefit and a company culture. Our workplace is a flexible one that often is able to adapt to our lives just as our lives, in turn, adapt to our virtual employment. At our agency, you'll find employees working in staggered shifts around the clock, all putting in the necessary time to get the work done while also being able to attend to the core functions of their lives — like going to our kids' soccer games, going for an early afternoon bike ride or visiting the doctor, worry-free. Because why force people to work 8 to 5 when business happens at all hours — as does life? 
While we meet in person frequently for internal or client meetings, we are entrusted to do the rest of our jobs where and when we are able. This accommodates all learning and personality styles, as introverts and extroverts, morning people and night owls are able to do their best work in the environment that best suits them. 
Further, we have worked as a team to identify our core values, which allows us to carefully choose clients and employees who reflect these values.
Essentially, and we're putting it all out there right now: We have a "no assholes" policy — both in terms of our team and our clients. Told ya we were real. We have encountered people in the past whose approaches, whose philosophies, whose behaviors did not mesh with ours. And we've chosen to proactively part ways with them. 
We are autonomous, yet we are all about the teamwork. 
Our virtual culture would seemingly require a fierce commitment to autonomy, but in fact, it does this while simultaneously valuing collaboration. Because we do not always work side-by-side, we find ourselves craving teamwork. This means we value our collaborative endeavors and never take them for granted. 
We are separate, yet we are hyper-connected.
We are always encouraged to collaborate through the use of technology — like cloud-based client management software, live-streaming chat, file sharing applications and voice-over conferencing services. These technologies break down any potential metaphoric walls, allowing us a constant "virtual" side-by-side sharing of information, ideas and resources. However, again, this technology is frequently complemented by in-person brainstorming, meetings and co-working, lending our agency a "best of both worlds" approach that melds the virtual and the physical into one giant ball of collaborative awesomeness.   
We are do-gooders with potty mouths. 
On evenings and weekends, you'll likely find at least one — and likely more — of our team volunteering: hosting birthday parties for homeless kids, cleaning up the Truckee River, walking puppies at the Humane Society and serving low-income people at pop-up restaurants. In fact, we've developed a philanthropic campaign dedicated to the community we love, one good deed for every year we've been in business. Right now, we're in the middle of #25Years25Deeds. 
You Might Also Enjoy This Post: Estipona Group's Third Annual Diaper Duty Sets Record for Diaper Collection
But while we're doing the deeds — or bantering during a business meeting — we might be doing so using some well-placed sweary language. (But only when not in ear-shot of puppies, kittens, babies, nuns or pretty much anyone not thoroughly vetted as a fan of such ubiquitous saltiness). 
We don't see these two aspects of our personalities as mutually exclusive, but sometimes, we get the side eye from people (those who don't know us) who somehow see a disconnect between sassy language and good deeds. Just like how people think swearing equates to a lack of vocabulary — when in fact, it's actually just the opposite.
But you know, there's this very science-y study that says that "Intelligent people are more likely to swear." So we're just going to leave that right there. Plus we'd argue that those who use more colorful language are more passionate and are more likely to give back. We might be making that last fact up, but we're totally standing by our claim. 
We are old(ish), but also have that new car smell. Metaphorically speaking, of course.  
We recently celebrated our 25thanniversary — that's the silver one, if you follow Hallmark holidays. And while many people on are team are not exactly Millennials, some wish they were (we're looking at you, Jackie), while others actually are. We represent pretty much every generation, and our culture embraces the diversity we all bring to the table. 
And another thing that is embraced hard: innovation. A few years ago, we integrated a research and development division into Estipona Group, one that is constantly dipping its toes into new technologies and business segments — for fun if we're being honest, but also because R&D can and does lead to big ideas. Essentially, we are delving into technologies that are not quite commercially mainstream, and when they're ready to roll, we'll be ready to roll. 
So there it is: how a nun and a sex therapist fully reflect Estipona Group's many diverse layers. Do you find yourself at your workplace embracing the opposites as well? Let us know in the comments. 
Mikalee Byerman is VP of Strategy for the Estipona Group, a creative agency that has been building brands and buzz since 1993.
You might also like these stories: