The 3 A's of Instagram: Aesthetics, Algorithms and Analytics
The 3 A's of Instagram: Aesthetics, Algorithms and Analytics
We're all looking for the science behind social media, am I right? If only there were an equation, or a key, or a handbook that comprehensively shared all of the tips and tricks, we'd all be influencers with millions of followers and thousands of dollars streaming in daily.
If only.
So while I can't offer the specifics to the science, I do have some ideas that offer insights into it. For the last two years that I've been conducting a deep-dive into the world of Instagram, I've basically boiled down the nature of the platform into what I call the 3 A's: aesthetics, algorithms and analytics.
Being a visual platform, Instagram is all about the look and feel of the content posted. It's no secret that the more compelling and cohesive your feed is, coupled with consistent posting, the more traction you're going to get.
Basically, the equation goes like this: A pretty feed + constant posting + tweaking strategy based on analytics = more followers = more engagement and impressions = more lead generation for your business.
So how do you go about achieving this elusive aesthetic while branding your business on a platform with an algorithm that inconveniently changes on the daily? Here are my tips:
1. Pick your "thing." 
First thing's first: You've got to pick a "thing." Are you going to use the same two or three filters on everything? Are you going to make every other post a quote, resulting in a gridded theme? Is the left column of your page going to be flat lays of your product on white backgrounds? Whatever your thing is, once you've pick it, you need to stick to it. Here are some examples:
Colors – same filter or same color scheme within the image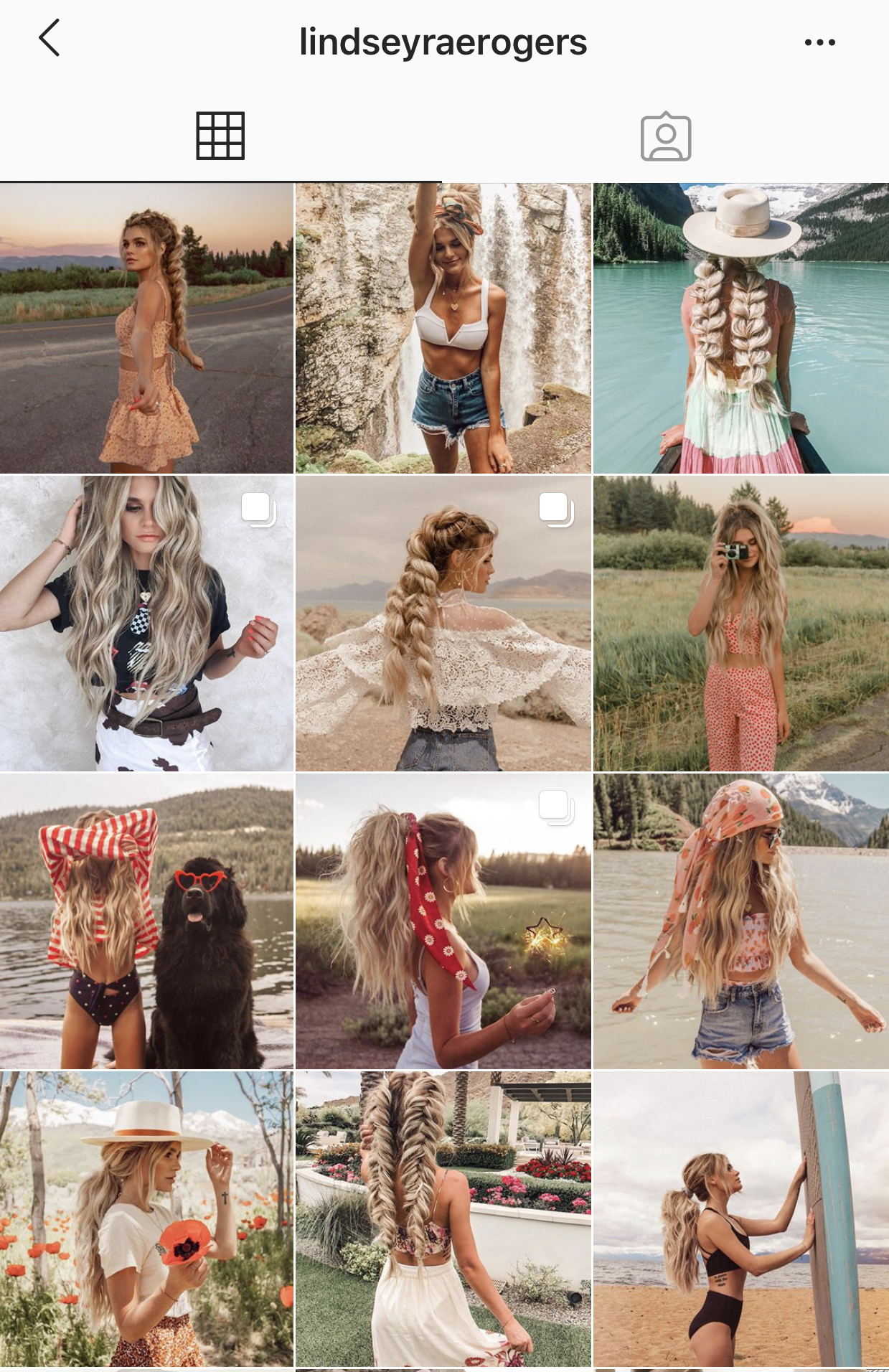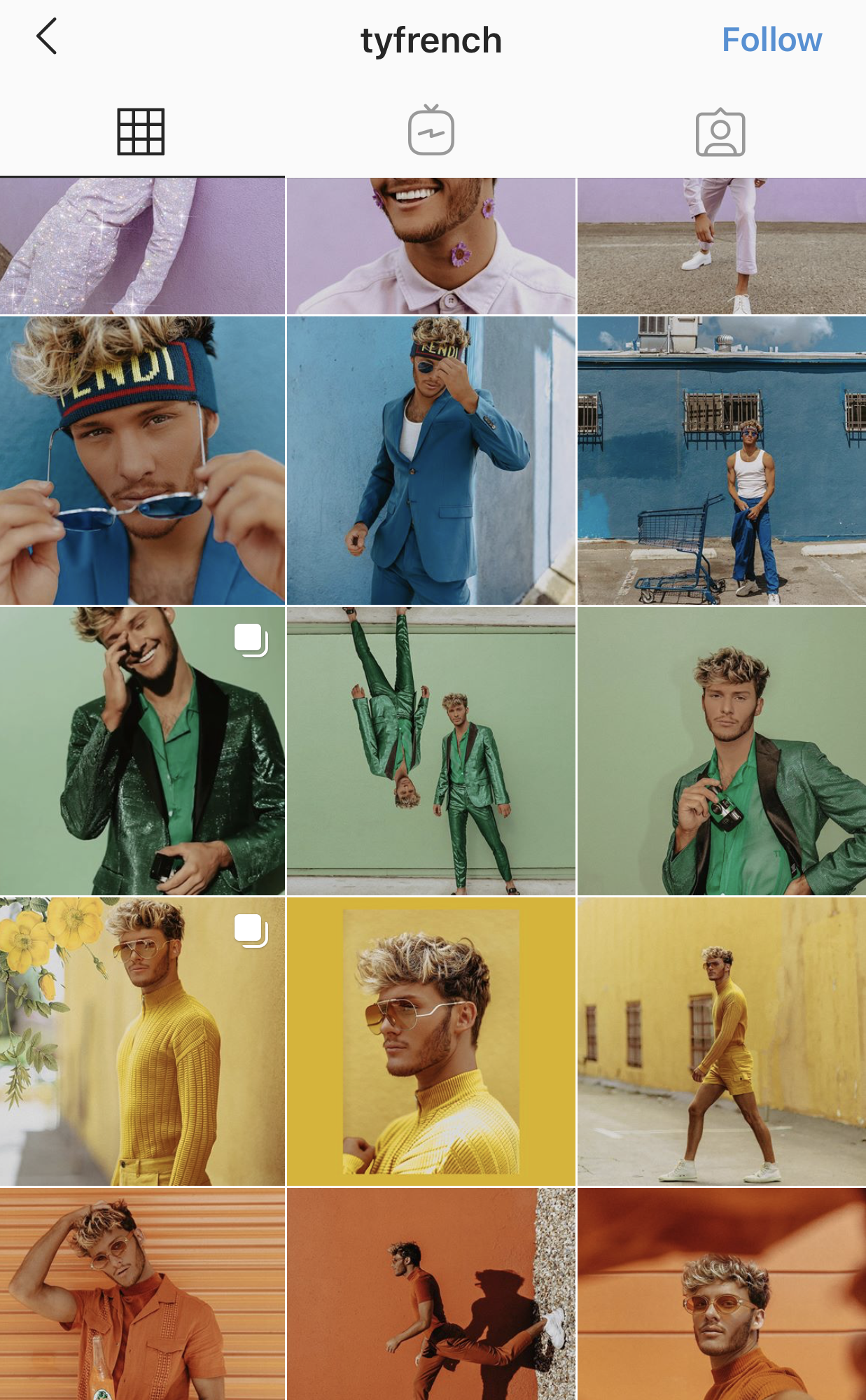 Consistent framing and/or borders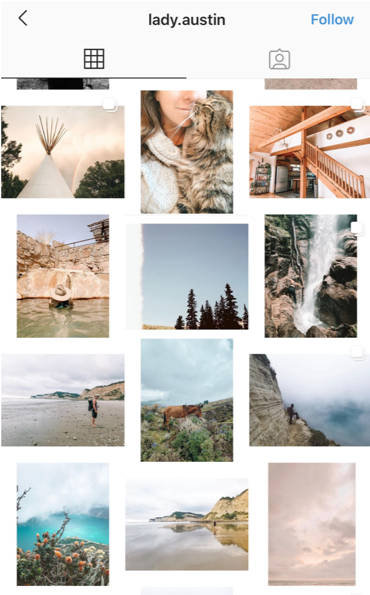 Use of lines and grids in your display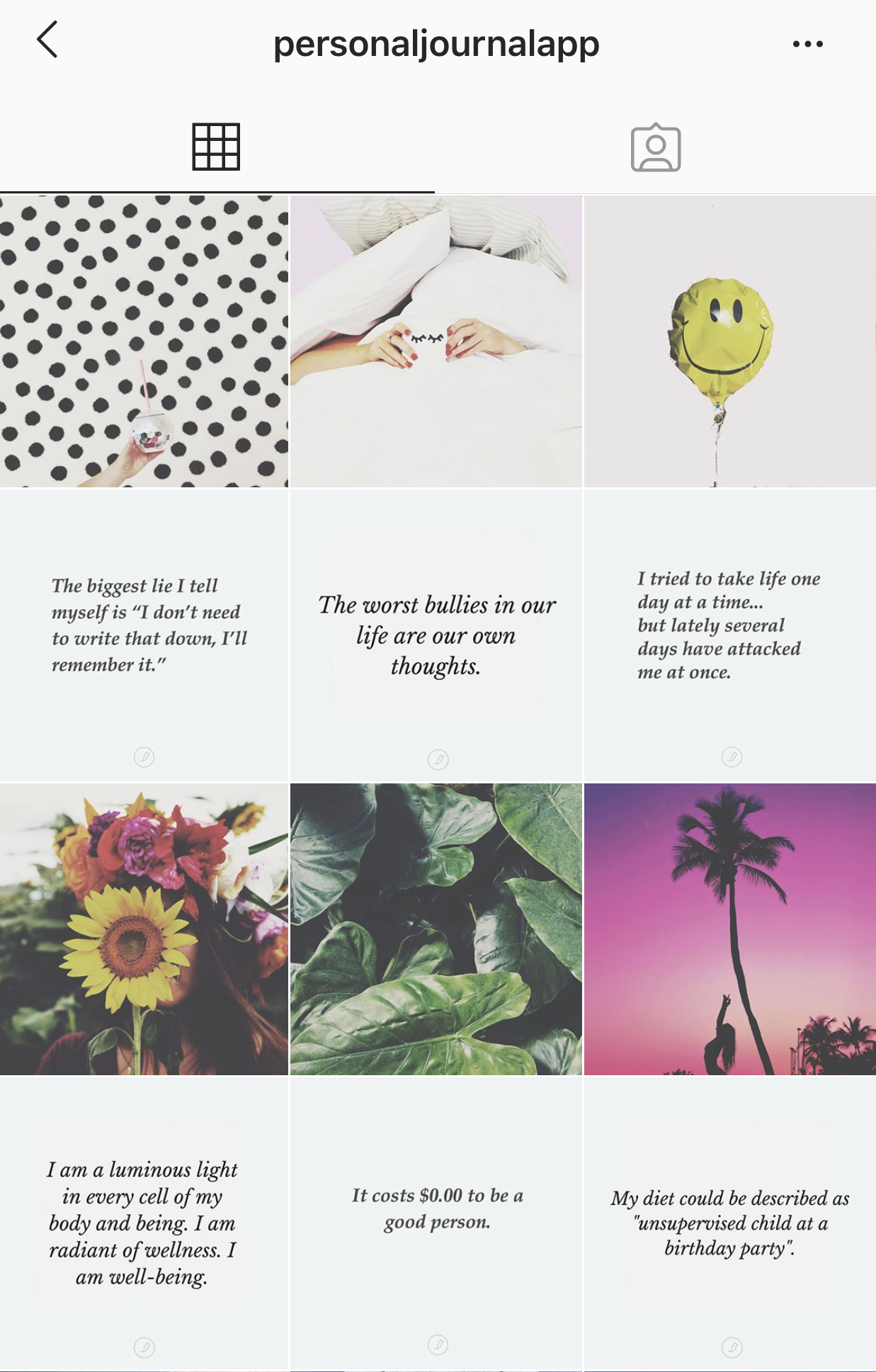 2. Plan it out. 
Yay! You've picked your "thing," so now what? Let's say you're like we are at the Estipona Group and have chosen a diagonal theme. This means that every third post needs to be a stylized graphic. I plan these graphics around holidays, events or even goofy office quotes from our boss' notorious Edwardisms. In order to keep these graphics on the same wavelength style-wise and to cut down on time creating them, I use a templated graphic so I can plug and chug information. If you don't have a graphic designer in house to make a template, Canva is an awesome tool. It's free, easy to use, and to be honest, most of those templates look pretty rad.  Also, utilizing apps like Planoly and Sprout Social helps massively. When I first started planning out the eventual Estipona Group aesthetic, Planoly was a life-saver, because I could actually see how my posts were going appear in our feed. Then I could just schedule out these posts in Sprout Social and know that I was on the way to making a #flawless Instagram feed.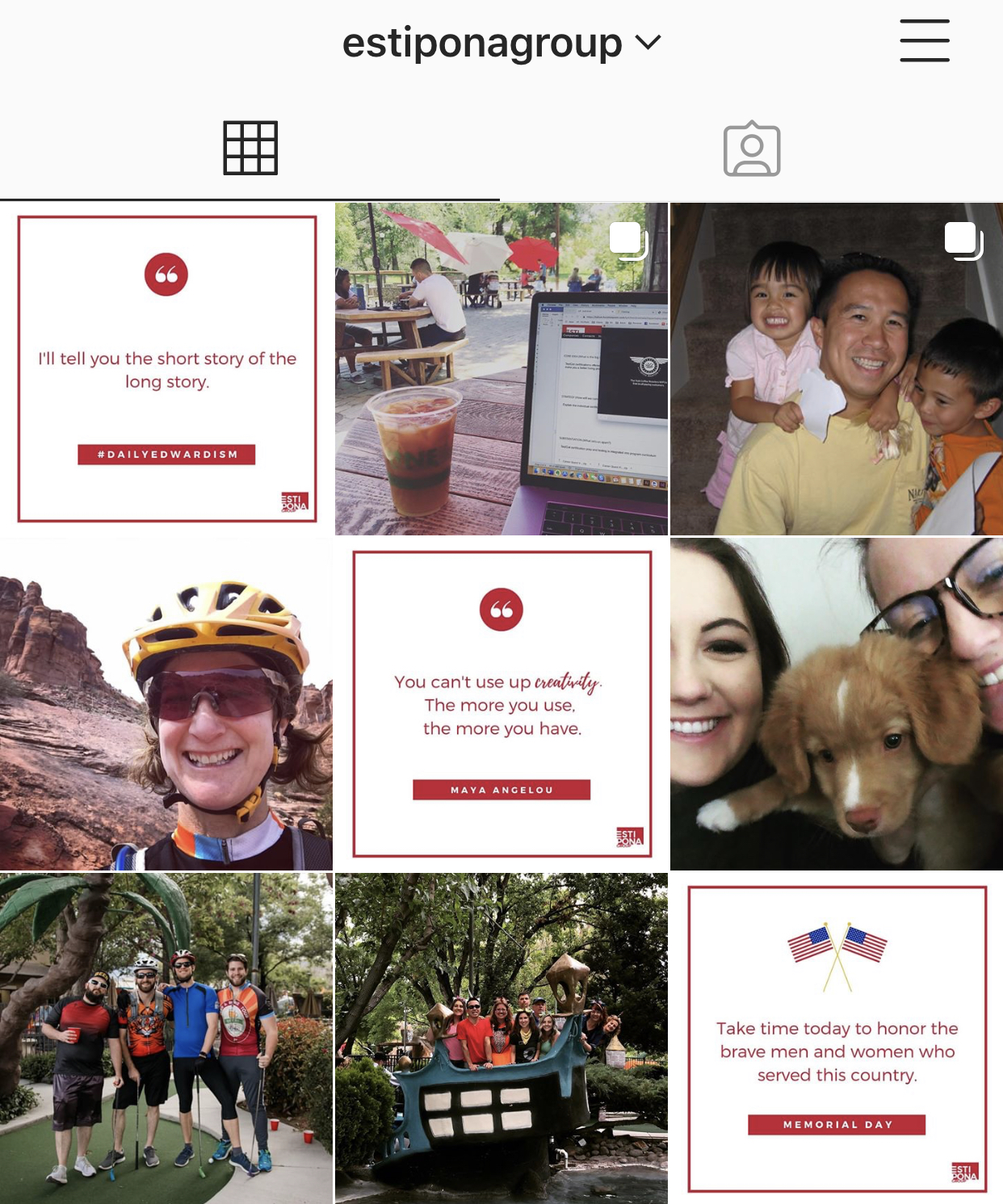 3. Hack the algorithm.
Now the tricky thing with Instagram is the dreaded algorithm. It pretty much changes daily, tends to favor personal accounts over businesses and is just about as elusive as the science behind the PERFECT aesthetic. But since we're not Mark Zuckerberg (or his team of people who are listening to us complain about it — who still haven't tweaked the algorithm in our favor), we have used the following tools to make sure our content is landing in front of our followers.
That's right: Here's what's inside of our (and now, your) Instagram toolbox:
Analytics – Data is going to drive all the things, so use it to your advantage.

Find out when your audience is the most active, the days of the week and the times they are online. If the majority of your followers are mostly on Instagram at 9am on Mondays and 7pm on Thursdays, that's when you're going to want to post.
Check out your most popular posts and figure out why they hit a chord with your followers. Is it super hilarious content? Does it show the behind-the-scenes of your day-to-day business? Whatever your audience digs about that content, you're going to want to make sure you're consistently sharing that type of content.
Stalk your followers. Ok, not really, but dive into your audience analytics and learn all about them: Where do they live, are they mostly men or women, how old are they? Once you get the low-down on your audience, you can start creating content specifically geared towards them. Bonus tip: Do this as frequently as time allows, but at minimum, monthly. Things change so fast in the digital world that one minute you're pushing out content to Millennial women from Reno, while the next you're being followed by a horde of Gen Z males from Las Vegas.
Instagram Stories – Every time you have a new post, share it to your story. This lets your followers know that you have a new post, even if they don't see it in their feed because #AlgorithmsAreTricky.
Engagement – Now I realize the goal is to have engagement on your post, but no one is going to want to talk to someone who won't talk to them back. So, here's the two-part plan:

Step 1: When your post goes live, you're going to hang out on Instagram for about an hour. In this time, you're making sure you're following everyone who likes your post and interacting with every comment you get. I challenge you to make these comment interactions genuine conversation. Don't just throw the heart eyes emoji on there, tell them why their comment makes you feel the love and get the convo going! Let's keep social media social and actually talk to one another. (We know, we know: Crazy idea.)
Step 2: Continue to have these genuine conversations on posts around the 'gram. Comment on your followers' posts. Slide into their story DMs. If you see a comment on a post and you agree, give it a like. The more your name shows up in someone's notifications, the more likely they are to follow you and engage with your content.

Lastly, hashtags and geotags are your friends, so don't forget to add them to all your posts AND on your stories. It helps push your content into the "Discover" page on Instagram and allows you to grow your audience even more. Remember, bigger audience = more engagement = more lead generation.
4. Have fun, be patient and be consistent.
You've picked a thing, planned your posts, stalked your audience and have done all the engaging and tagging — good on you! Now you just need to keep up with it. Like anything in life, these tips aren't going to blow up your account and bring in all the business overnight (if only it were that easy). Have fun with the content you post and push all the creative boundaries. Be consistent in your posting and audience engagement. And lastly, be patient. It may take weeks, it may take months, but if you put in the work, you'll have a poppin' Instagram account in no time! And hey, if you don't have the time to put in the work, we got you.
Dani Rawson is the Digital Media Coordinator for the Estipona Group, and she kinda likes photos. A lot. We're not kidding, and you should probably see for yourself: @danirawsonphoto
You might also like these stories: