Upcoming Events: Estiponies in the Wild
Upcoming Events: Estiponies in the Wild
NCET Biz Bite Luncheon: How to Train Your Brain for Success with Mikalee Byerman
How many times have you entertained this thought: If only I were smarter or more talented, I could be more successful. And if I were more successful, I'd be so much happier.
But guess what? Research shows that only 25% of job success is based on IQ. An overwhelming 75 percent of job success is predicted by your sense of optimism, social support and your ability to see stress as a challenge instead of a threat.
The takeaway: It's time to reframe our ideas about "achieving success." What if happiness isn't a byproduct of success, but instead, success is a byproduct of happiness? And what if you can program yourself to be more successful by tweaking something fairly simple — your personal sense of positivity?
Join us for an interactive session called "How to Train Your Brain for Personal & Professional Success." Speaker Mikalee Byerman — author, humor writer and communication strategist — has some tips and tricks to help you train your brain to embrace positivity, which will in turn serve to enhance your professional and personal success.
In this session, you'll:
Uncover your personal link between success and positivity
Identify an actual value tied to your sense of happiness
Develop specific ways to train your brain to be happier
Explore case studies and real-world examples of positivity at work
Wednesday, September 25, 2019 | 11 am - 1 pm 
Reno-Sparks Convention Center
4590 S Virginia Street
Reno, NV 89502
·      $30 - NCET members
·      $40 - non-members
Tables for 8 - includes premium location at front of room, table signage, and recognition from the podium during luncheon.
·      $240 - NCET members
·      $320 - non-members
All NCET luncheon events must be paid for in advance. Unpaid reservations will be cancelled automatically.
---
---
2019 AAF Western Region Conference with Mikalee Byerman
The AAF Western Region Conference is taking place at the Sacramento Hyatt Regency Oct. 3-5. Estipona Group's VP of Strategy Mikalee Byerman will be offering a speaker session from 10-10:45 a.m. on Friday, Oct. 4.
Details: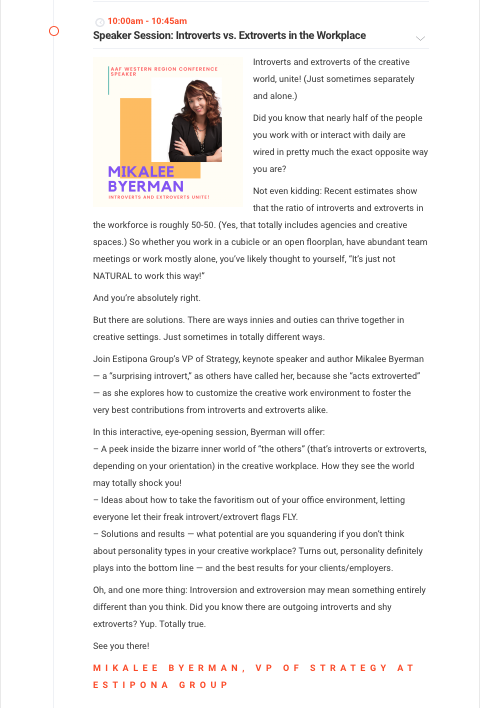 Register for the Conference here. 
You might also like these stories: