Good Deed #15 — Moon Rabbit Café
Good Deed #15 — Moon Rabbit Café
I've been going to the Reno Buddhist Center for yoga on Saturday mornings on and off for the last four years or so. When I saw they were introducing a pop-up dinner called "Moon Rabbit Café" (MRC), I was intrigued.
But it wasn't until April of this year that I finally went to check it out, and I'm so glad I did! It's a pay-what-you-can community dinner they put on every other month, so you get people from all walks of life. If you can pay more, do it. If you can't pay at all? No problem.
The food was amazing, and everyone donated their time to put it on. It was such a fun experience sitting with all the different members of our community and feeling the collective energy. Not only that, the proceeds from the night went to support "On Common Ground," which is building a nonprofit grocery market in downtown Reno.
Although MRC is hosted by Reno Buddhist Center, it's not a Buddhist event. According to its Facebook page, "This is a community wide effort and non-denominational in the extreme. Roughly half of the MRC team are not affiliated with the Buddhist center. We rely on the Reno Buddhist Center for organizational and financial backing in the project."
After the great April dinner, I reached out to Matthew Fisher (Resident Buddhist priest) to find out about getting Estipona Group involved for a good deed. We agreed to volunteer at the July dinner, and we quickly learned all that goes into pulling one of these dinners off.
First, we needed to find a chef. We knew exactly who we wanted on our team that night: Brooke Lampert of Divine Plate. She is our go-to chef and event-caterer extraordinaire. She's worked with us on many client parties, and she caters our weekly internal production meetings. She brings an unparalleled level of creativity (and yumminess) to every event she works.
And of course, she absolutely killed it at MRC. She came up with a menu that would stretch the budget dollars as far as possible, spent two days prepping and commanded the kitchen and wait staff with a force, day-of. We (the staff) were all un-trained volunteers, and she is a Cordon Bleu-trained chef — so you can imagine how much finesse and patience it took for her to make the night as successful as it was.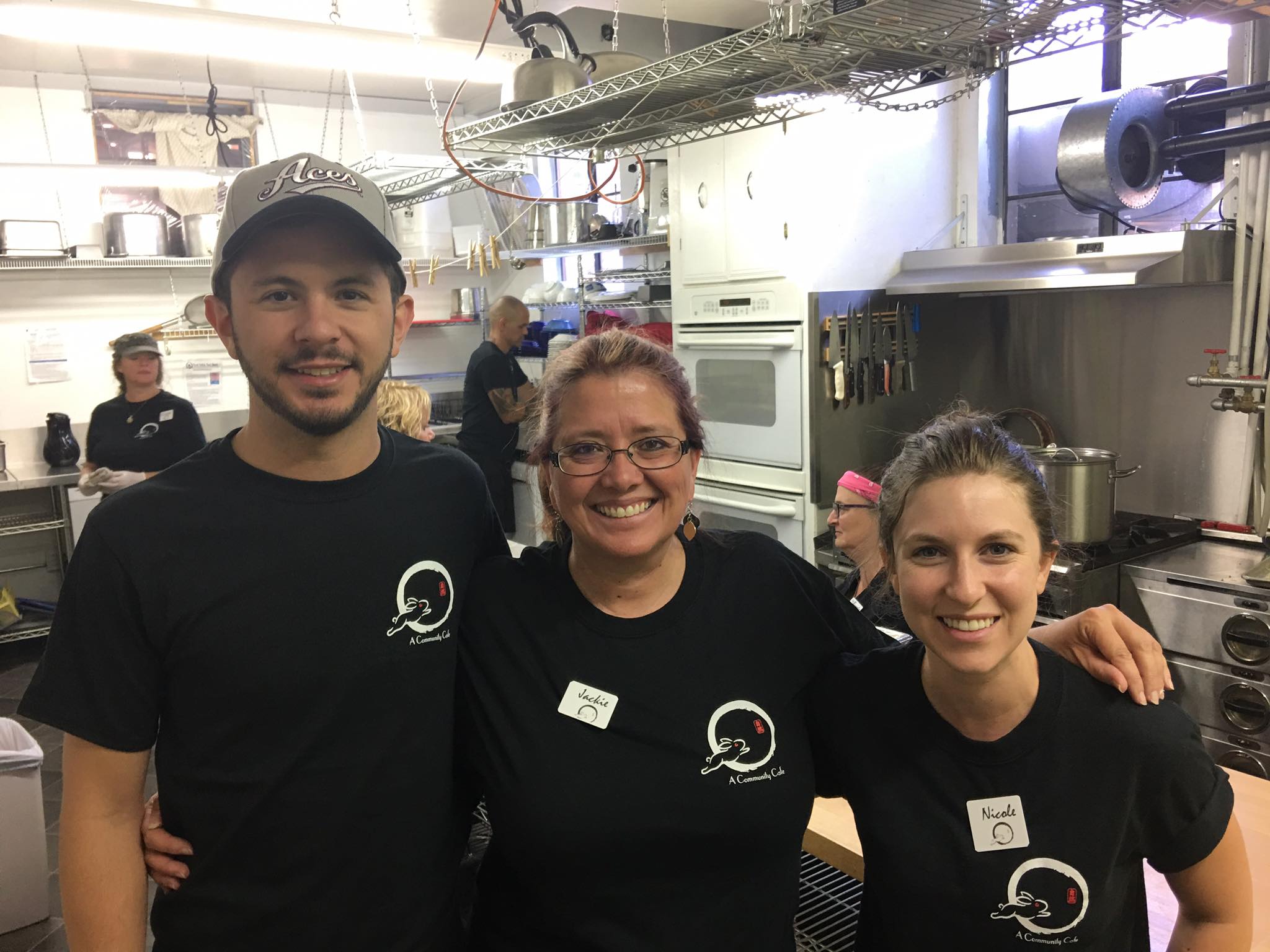 Jackie Shelton, Lucas Pakele and I were food / beverage runners, taking orders and communicating with the kitchen from 4 - 8 p.m. on Saturday, Aug. 12. We probably served a total of 150+ people in a small room in the basement of the Buddhist Center, so needless to say, there was some sweat involved.
In addition to volunteering our time on Saturday (11 hours) and coordinating the fabulous chef, Estipona Group also helped by developing the theme and creating a flyer and graphic for MRC to promote the event.
We'll definitely be slating this in as one of our regular deeds, and you should follow them on Facebook and attend their following community dinners.
And if you're interested in volunteering, please email moonrabbit@renobuddhistcenter.org.
You might also like these stories: