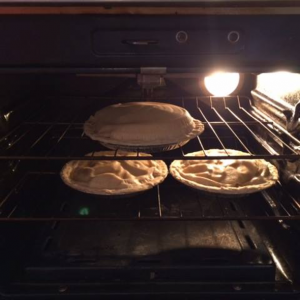 Have you ever been the beneficiary of someone paying it forward? Maybe someone paid for your coffee in the Starbucks drive through; or perhaps you and your gallon of milk were invited to cut in front of the dude with the full grocery cart at the supermarket.
And how did that make you feel? Pretty darn nifty, right?
We figured. And this is just one of the reasons we're celebrating Pi Day this year — 3.14 — with the #24Years24Deeds event we're calling "Random Acts of Pie-ness."
Our hope is that you feel inspired to bake a pie (or even buy one — shhhh, we won't tell), and then deliver it to a deserving person on Pi Day — Tuesday, March 14. And it can literally be anyone — though we do recommend it's someone either in public service or that you actually know, otherwise it could seem a little creepy. But anyhow.
If you're looking for ideas, here are just a few audiences that would love an unexpected pie on this most auspicious and awesome of commemorative holidays:
– Family
– Friends
– Neighbors
– First responders
– (Current or former) teachers
– Military service members
– Veterans centers
– Shelters
– Senior centers
And all we ask is this: Take a pic of your pie (and/or your happy recipient), and share it with us on the Estipona Group's Facebook page using the following hashtags: #PieItForward #PiDay #24Years24Deeds.
So join us: Let's turn Pi Day into Pi(e) Day! Oh, and because we love you, below is just one way we're paying it forward. Here's a recipe for a totally AWESOME pie, formulated by Estipona Group's exclusive caterer, Chef Brooke Lampert of Divine Plate.
(We do recommend you bake two of these, though — because if you only bake one, we both know who's going to end up eating it. Spoiler alert: It's not the neighbor, veteran or teacher.)
Click here for more details about #24Years24Deeds. And regarding your recipe; feel free to share it, because it turns out that's a good way to guilt trip someone into making it for you. Go ahead and try it. We dare you.
Estipony Rainbow Cookie Pie
½ cup (115g) unsalted butter, softened to room temperature
¾ cup (150g) granulated sugar
1 large egg and 1 egg yolk
1 ½ cups (190g) all-purpose flour (spoon flour into cups, especially if not weighing)
¼ tsp salt
1 tsp baking powder
½ tsp baking soda
1 ½ tsp cornstarch
2/3 cup (120g) white chocolate chips
½ cup (80g) rainbow sprinkles (use jimmies not the round sprinkles, their color runs)
Frosting
½ cup unsalted butter, softened to room temperature
1 ¾ cups (150g) confectioner's sugar
2 Tbls heavy cream
1 tsp vanilla extract
¼ tsp almond extract
pinch of salt
extra sprinkles for decorating
Directions
1) Preheat oven to 350 – spray 9-inch pie plate with nonstick spray
2) Hand held mixer or stand mixer with paddle attachment, cream softened butter for 1 minute (medium) once smooth add sugar cream till fluffy and light in color. Beat in egg, egg yolk and vanilla, scraping down sides as needed.
3) In bowl whisk together flour, salt, baking powder, baking soda and cornstarch. With mixer running add in dry ingredients – in 3 parts, dough will be thick. Once combined fold in chocolate chips and ½ cup sprinkles
4) Press dough into pie plate, bake for 25-30 minutes until very lightly browned on top. Soft in center is good – cool completely before frosting
Frosting:
1) Hand mixer or stand mixer with paddle attachment, beat the butter on medium until creamy – add confectioner's sugar, cream, vanilla and almond extracts with mixer running on low. Increase speed to High and neat for 3 full minutes. Add more confectioner's sugar if frosting is too thin or cream if frosting is too thick. Salt if frosting is too sweet
2) Frost as desired and add sprinkles