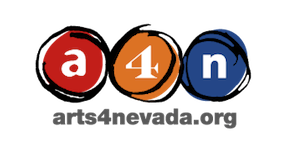 Over the years, many of us on Team Estipona have gone all Mama Bear in defense of increased funding and visibility for the arts. Translation: We're fierce advocates. So our commitment to the arts developed into a partnership with Arts 4 Nevada (A4N), a volunteer-based coalition of arts supporters who promoted the arts community in Nevada, helped with events promotion, marketplace promotion and created a statewide artist directory. 
Unfortunately, without proper funding and necessary staffing to continue the initiative, A4N decided to discontinue operation, instead encouraging the Nevada Arts Council (NAC) and Culture Alliance Nevada (CAN) to continue A4N's important work. This was another opportunity for Team Estipona to help: We were asked to draft a "goodbye" letter to anyone who visited the website, notifying them of this transition and thanking them for their support. We also assisted as they closed down the site and helped transfer data to the Arts Council.
So long, A4N; we are anticipating many good things to come from the Nevada Arts Council and Culture Alliance Nevada. And we stand ready to go all Mama Bear again, should you ever have the need.