Q. Nevada's birthday is just around the corner. If you could take Nevada out for her birthday, where would you take her for this special night out on the town, and why?
A. I would take her to my mama's kitchen, since my mom is the best cook I know and she never disappoints.  
Q. You're responsible for social media content for many of Estipona Group' clients. What's your favorite social media platform, and what are you most excited about in the future of social? 
A. My favorite social media platform is Instagram, because I love photography and utilizing Instagram stories. I am excited to see how their story feature grows and how we can use it for our clients and for our own EG Instagram.
Q. Halloween is also quickly approaching. What has been your personal favorite Halloween costume to date? And SURELY you have a picture, amirite?
A. My favorite Halloween costume by far has been Buzz Lightyear. To infinity and beyond, friends!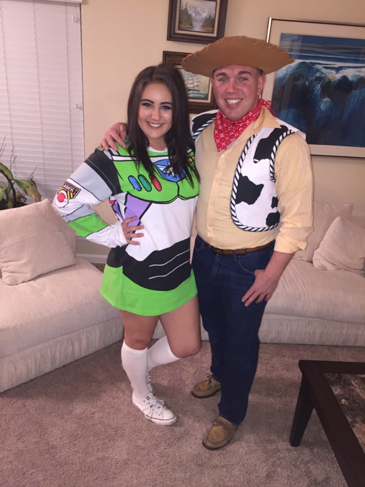 This is my friend Spencer; we went as Woody and Buzz to a Halloween Dance
Q. Speaking of super scary stuff, would you rather: Do your sorority sisters' laundry every day for a year, or cook them every meal (breakfast, lunch and dinner) every day for a month (including shopping and meal prep)?
A. I would choose to meal prep my life away, 100 percent. I basically do it anyway.
Q. What do you like most about agency life (or at least, Estipona's version of agency life, which is just like regular agencies, plus a quirky owner, minus walls, plus the world's coolest clients, minus community Red Vines, plus lots of technology, minus office politics)?
A. I love the creative freedom I get through my position. It's a fantastic way to express my ideas and bring a new perspective to our client's social media platforms. Plus, y'all are pretty funny, which makes collaborating on ideas a kick.