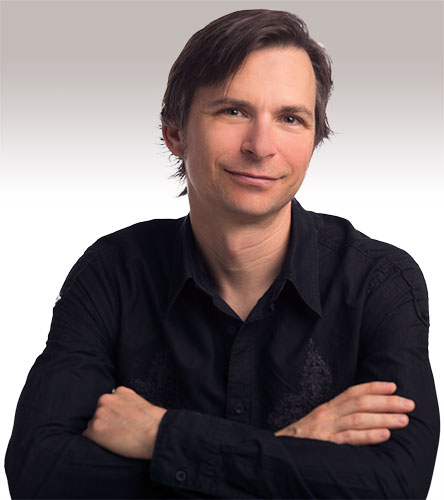 Brian is one of those guys who comes off all unassuming; yet below the surface, his razor-sharp wit is constantly percolating, ready to come to a full, rich, satisfying cup o' comic genius.
And in unrelated news: Anyone else in need of an Sbux run?
Anyhow, here's a little more insight into the beautiful mind of our Associate Creative Director, Brian Raszka.
Q. Think back to the days of Baby Brian or Toddler Brian, and tell us about the first piece of art you remember creating.
A. When I was in first grade, (as far back as I can remember, so post-toddler) — which I am calling my "rock period" — we were given a project to create a Mother's Day gift with these supplies at hand: a piece of slate (that's a type of rock for you non-geologist types), some paint and a piece of string. Evidence shows that I painted some primitive-looking potted flowers on the slate. Can you say MASTERPIECE! I believe the creative brief said something like, "Pick a rock and paint something on it and give it to your Mum, you knuckleheads." I might have made that last bit up.
Q. Pick your fave: Pantone 18-3224 TPX Radiant Orchid, Pantone 17-3817 Daybreak, or Pantone 19-1934 Tibetan Red. Why?
A. I'm going to go with Tibetan Red for $200, Alex. Going with that one because it reminds me that Tibet is and has been bullied by China, and I always root for the underdog. Sorry for getting all up on my soapbox and all.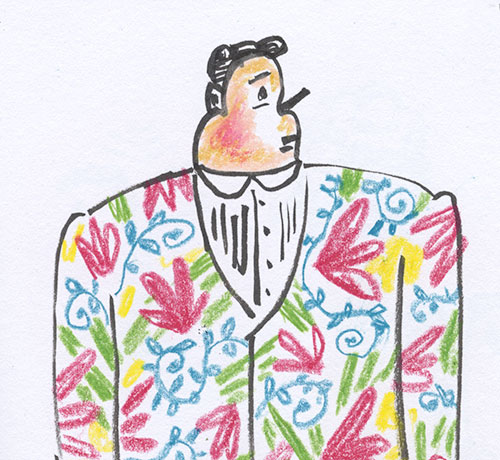 Q. If you could spend the day hangin' alongside a famous artist alive or dead, who and why? (To be clear, he or she would not be all dead and gross during the aforementioned "hangin'." He or she would appear alive. Just thought we'd relieve any possible fears.)
A. Let's see, Jackson Pollock; no, too volatile. Warhol; too weird. Philip Guston; I can't do cigarette smoke. I mean, it gets in your clothes and your hair. Like being in a bar back in the day. Then you have to take a shower. Blech.  Banksy; maybe but I usually go to bed early, and I think the Bankster is a night owl. I wonder if hanging out with another artist might be, dare I say it, a little awkward. I mean how many times can you say to your art hero, "Hey, man, I really like your stuff."  I guess you could talk art materials like, "Hey Giotto, how's that plaster stuff working out for ya? I just use these here stretched canvases that I buy at the art store. It's light, hangs on the wall and I can move it around really easily. You should get some." Giotto would be like, "Hmmm. Go away" (in Italian, or course). Or at least, that's how I imagine that would go. Maybe Picasso. He seemed to have been both prolific and pretty well rounded. I could also practice my conversational Spanish with him.
Q. What is your favorite piece of artwork that you own?
A. I've got some masks from Bali that look like human/bird hybrid faces. Pretty neat, unless you see them on your way to the bathroom in the middle of the night. Then, you're like, "A HELLHOUND IS ON MY TRAIL!" But just for a second. Then you realize that you are not living in an old blues song, and your heart rate eventually calms down enough to pick up your blanky and go back nigh-nights.
Q. You're like a bad penny that keeps turning up at Estipona Group. In a good way. Of course. Obviously. We're super grateful. Anyhow, what made you come back for more this time around?
A. Tell me about it!
Here are the top ten reasons why I came back to Estipona Group:
#10 I can always chime in with my ideas no matter how stupid!
#9 Free lunch after the status meeting!
#8 Direct deposit!
#7 Small company means shorter lines!
#6 I can bike to just about every meeting!
#5 Health insurance!
#4 The ability to call B.S. on something. And, one day, my friends, I'll do just that!
#3 Autonomy, baby!
#2 We work from home, or wherever the hell else we want!
And, the #1 reason I came back to work at the Estipona Group: a FREE EG coffee mug for all!